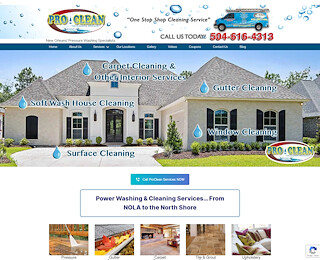 Schedule your next carpet cleaning in New Orleans and experience the difference that comes from hiring a team of experts. At ProClean Services we guarantee exceptional results every time you call us to clean your carpets. If you no longer love your carpets, we can restore their condition and bring them back to their original beauty using an effective, deep-down cleaning system that cleans better than other services.
Carpet Cleaning Coupons
Clip one of our website's digital coupons to save money on your next carpet cleaning in New Orleans. We'll clean five rooms and a hallway for the low price of just $139 when you use our discount coupon. Use our Senior Citizen coupon to save 10% off of any service we offer as well. If you don't see a coupon that meets your needs, feel free to call us to ask about current specials or deals.
Demo Videos
Visit our 'Videos' section online to watch our unique cleaning process- the best way to see for yourself what your carpets can look like after they've been cleaned and dried. Our customers are always surprised to find out that the drying time is just 2-6 hours since our extraction process removes an average of 97% of the moisture we put down on carpets. If you require a faster dry tie just let us know and we can set down high-velocity air movers to speed dry your carpets.
Our Patented 12-step Process:
A few of the critical steps we take to ensure complete satisfaction on your part are steps often left out by other carpet cleaners, such as professional furniture moving, pre-vacuum, pre-condition, and pre-spot treatment. We don't just want your carpets to be cleaner than they've ever been before, we want them to feel soft, smell fresh, and look amazing- with a deep down clean that goes right to the carpet's bottom fibers.
Pre and Post Stain Attention
If your carpets are stained or have pet odors, let us know when we arrive, and we'll give special treatment to these areas. Our goal is to restore your carpets to like-new condition again using our advanced equipment and formulas. In the end, if you're not happy with the results, we're not going to be satisfied either, which is why we work hard to meet your standards for clean. Heavy traffic areas and pet stains are no match for the technology we use.
Our Services Are Affordable
We're proud to offer the latest technology in carpet cleaning in New Orleans at such an affordable cost. If you're thinking about replacing your carpets due to stains or odors, consider calling us first and letting us come in to provide a free carpet inspection. We may be able to save you thousands of dollars over replacement costs by giving you back the carpets you once loved. One call is all it takes- we'll do the rest, from scheduling our visit during a time that is convenient for you to showing up on time and providing a free estimate for the cleaning.
Carpet Cleaning New Orleans
ProClean Services
5046164313
1830 Hermosa Street, New Orleans, LA 70114
View Larger Map