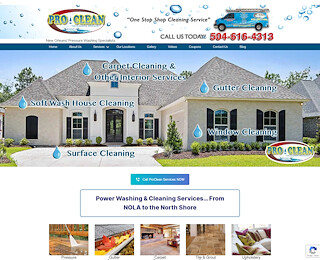 Soft wash in New Orleans removes dirt, grime, and mold from your home. New Orleans is humid, practically tropical and ProClean Services can keep your home free from foreign invaders, retaining the shine of a new home.
What are the complications of living in a humid climate?
Louisiana is hot with an average temperature of between 73 and 93 degrees Fahrenheit. Mold and mildew thrive in our climate, covering some of the most iconic buildings in the old quarter and damaging suburban dwellings and offices alike.
These invaders create a sense of dilapidation while attacking the integrity of structures. Inhaling mold is dangerous while either can rot beams and threaten the integrity of your home.
How do mold and mildew affect my deck?
Building a deck in Louisiana can be as expensive as installing a swimming pool. Over time, the forest tries to reclaim the wood and steel alike, driving up maintenance costs when a piece fails or needs to be replaced.
Pressure washing wipes away the problems and keeps maintenance costs low. Avoid rebuilding your entire deck with time at a cost of between $3600 and $8400 with a thorough annual pressure washing just as spring starts.
Soft washing your exterior
Painted homes and homes constructed with sensitive material cannot be pressure washed. Instead, soft washing retains the luster you expect from your home.
Cleaning agents used with soft washing also help create even more of a shine. Detergent and cleaning agents bind with dirt, mold, and mildew, creating a foamy mixture that is then rinsed away along with any spider webs.
Gutter cleaning
Disintegrating leaves clogging your gutters and drains create a hazard for your entire home. They force water over the drain and onto the wood, providing the ideal environment for unwanted grime.
Combining our gutter cleaning service with our washing services helps your home remain livable. Do not let leaves render your gutters useless.
What services keep my home free from mold and dirt?
Pressure washing in New Orleans is almost a requirement. Pressure wash and soft wash clean away dirt and grime to leave your home healthy and looking its best.
Since mold and mildew grow with time, it is a good idea to use these services at least once annually. ProClean specialists examine your entire home to keep your exterior and interior mold and mildew free.
Soft washing, pressure washing in NO
The top New Orleans pressure washing services remove mold and mildew from your home to keep your structure beautiful, clean, and healthy. Pressure washing works well on decks while New Orleans softwash uses cleaning agents to thoroughly clean your exterior.
Do not create the perfect environment for mold and mildew. Let ProClean Services specialists completely wash your home, deck, and driveway.
We strive to provide the best quality service with services inside and out including with a deep soft wash in New Orleans. We are the one-stop cleaning service for your home. Get in touch with our experts today to prepare for the spring row season.
Soft Wash New Orleans
ProClean Services
5046164313
1830 Hermosa Street
New Orleans
LA
70114
View Larger Map
We welcome your comments!