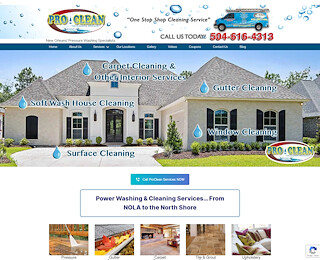 How often do you clean your gutters? Your gutters help to collect and dispose of rainwater. Over time, leaves, gunk, and seasonal buildup can accumulate and clog the gutters. When this occurs, you need to hire the expertise of a reputable company that offers gutter cleaning in Metairie, LA. ProClean Services is the perfect fit for the job.
At ProClean Services, we aim to provide a convenient and stress-free way of cleaning your gutters. We will handle everything involved in cleaning your gutters including removal of leaves and debris. This will give you more time to attend to family obligations or other pressing needs. We can clean gutters of both residential and commercial buildings.
Our gutter cleaning in Metairie is well-detailed and highly professional. We take our time to carry out the cleaning and ensure that a thorough job is done. Our ability to continually deliver exceptional results in every gutter cleaning project makes us the preferred option for a lot of homeowners in Metairie, Louisiana, and nearby communities.
Why Choose Us For Your Professional Gutter Cleaning in Metairie?
ProClean Services remains your go-to provider of excellent gutter cleaning services in Metairie. We have what it takes to completely get rid of leaves, debris, or clogs that may be obstructing the flow of rainwater in your gutters. Some of the reasons why you should choose us for your gutter cleaning include:
Experienced, Professional Cleaners
At ProClean Services we work with a team of well-experienced, competent experts that have been put through comprehensive training on how to clean gutters. Our experts will blow away the leaves and gunk. We will ensure that any debris clogging your gutter is completely removed.
Advanced Cleaning Techniques
To ensure that your gutter cleaning project is expertly carried out, we make use of state-of-the-art equipment. Our high powered leaf blowers will be used to blow away leaves. We will also take time to pressure wash the gutters. Our advanced cleaning techniques will make your gutters free of clogs again.
Safe, Convenient, and Stress-Free
At ProClean Services, we understand how stressful cleaning your gutters can be. Besides, climbing and cleaning your roof can put you at risk of falling. Your roof or gutters can even become damaged in the process. However, with our professional gutter cleaning in Metairie, you can take advantage of our trained experts. We will offer you a safe, convenient, and stress-free way to keep your gutters clean.
Well-Detailed & Highly Professional Services
All our gutter cleaning services are carried out with a high level of professionalism. We do not leave leaves and dirt all around your yard after cleaning the gutters. Our competent, Metairie gutter cleaning crew will take time to remove any fallen leaves, gunk, and debris from the surroundings of your home. We can also help with minor repairs to your damaged or leaking gutters. No other provider of gutter cleaning in Metairie can deliver unparalleled services like us.
Contact Us Today!
Save yourself the stress of cleaning your gutters by hiring an expert company like ProClean Services. Our services are highly affordable. We guarantee you excellent services that give 100% customer satisfaction.
ProClean Services
5046164313
1830 Hermosa Street
New Orleans
LA
70114
View Larger Map
We welcome your comments!